Japanese Eggplant with Miso
<![if !vml]>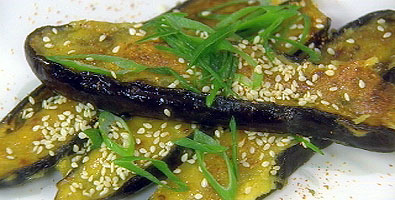 <![endif]><![if !vml]>

<![endif]>
Ingredients
2 eggplant
Salt
50g miso (red or white)
1 tablespoon sugar
1 tablespoon sake
1 tablespoon mirin
1 egg yolk
2 tablespoons white sesame seeds, toasted
1 teaspoon Japanese chilli five spice (optional)
2 tablespoons vegetable oil
4 spring onion greens, julienned
Method
Wash eggplant and cut lengthways in 1cm thick pieces. Sprinkle with salt and leave 30 minutes. Rinse eggplant, pat dry then brush with a little vegetable oil on both sides. Either barbeque, grill or panfry eggplant until soft.

In a bowl mix together miso, sugar, sake, mirin, sake and egg yolk.

On a baking tray, spread one side of the eggplant with miso mix. If you like it hot, sprinkle the Japanese chilli five spice on now. Grill for a few minutes until the miso bubbles on top.

Serve on a plate, sprinkled with sesame seeds and garnished with the julienned spring onion greens.