Jerusalem

Artichoke

Soup with Sage Croutons
<![if !vml]>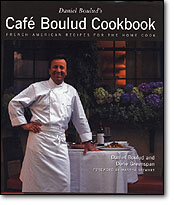 <![endif]>
From "Cafe Boulud Cookbook" (Scribner)
By Daniel Boulud and Dorie Greenspan
4 servings
The soup:
4 tablespoons unsalted butter

3 ounces pancetta or slab bacon, cut into 3 chunks

1 large onion, peeled, trimmed, and thinly sliced

1 medium fennel bulb, trimmed and thinly sliced

1 medium leek, white part only, thinly sliced, washed and dried

1 celery stalk, peeled, trimmed, and thinly sliced

3 cloves garlic, peeled, split, and germ removed

Salt and freshly ground white pepper

Bouquet garni (2 sprigs sage, 2 springs thyme, and 1 bay leaf, wrapped in a leek green and tied)

2 pounds Jerusalem artichokes, scrubbed and cut into 1/4 (one fourth) inch thick slices

2 quarts unsalted chicken or vegetable stock or water

1 small potato, peeled and diced

1/2 cup cup heavy cream
Method:
Melt the butter in a Dutch oven or large casserole over medium heat. Add the pancetta or bacon and cook, stirring occasionally, until it renders its fat, 3 to 5 minutes. Add the onion, fennel, leek, celery and garlic and season with salt and pepper. Toss in the bouquet garni and cook, stirring from time to time for 5 minutes. Add the artichokes and cook for 15 to 20 minutes more, stirring occasionally.
Pour in the stock or water, add the potato and 1 ½ (one and one half) teaspoons salt, and bring the mixture to the boil. Lower the heat so that the soup simmers and cook, uncovered, for 30 to 35 minutes, skimming the foam from the surface as needed. Spoon out the pieces of pancetta or bacon, cut them into small dice, and set them aside until serving time. Discard the bouquet garni.
Using a blender, hand-held immersion blender, or a food processor, and working in batches, puree the soup until it is very smooth. Strain the soup through a fine mesh sieve into a large saucepan and taste for salt and pepper, adding seasoning as needed. Add the cream to the soup and bring to the boil, then lower the heat and keep the soup warm while you make the croutons.
The croutons
2 tablespoons extra-virgin olive oil

2 slices bread, preferably country bread, crusts removed and cut into 1/4 (one quarter) inch dice to make 1 cup

3 leaves sage, finely sliced

1 clove garlic, peeled and crushed

Salt and freshly ground white pepper
Method:
Warm the oil in a small saute pan or skillet over medium heat. Add the bread, sage and garlic, season with salt and pepper, and saute until the bread is crisp and golden brown. Discard the garlic and drain the croutons on a double thickness of paper towels. Save the crisp sage leaves to garnish the soup.
To serve: ladle the soup into warm bowls and top each serving with some of the reserved diced pancetta or bacon, a few croutons, and some strands of crisped sage.