Spinach Salad with Warm Bacon Dressing
Serves 4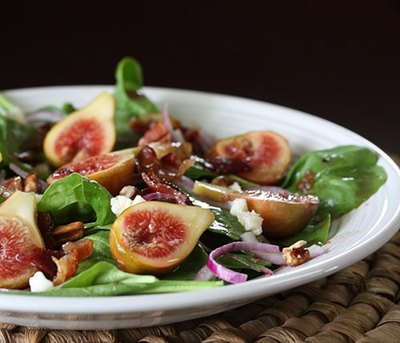 By Diana Rattray, About.com
Fresh figs and blue cheese are among the ingredients in this elegant spinach salad with warm bacon dressing. This is a great salad for a dinner party or special occasion meal.


INGREDIENTS:

               Baby Spinach
               Red Onion slices
               1 Persian Cucumber sliced
               8 halved grape tomatoes
               8 medium shallots
               2 tbl butter
               1 tbl Red wine vinegar
               1 tbl Sugar
               
               Dressing:
               4 rashers bacon cooked and chopped
               1/3 cup sugar
               1/3 cup red wine vinegar
               1 tbl water
               2 tsp cornstarch
               dash salt
               
PROCEDURE: 

In a ovenproof skillet saute the shallots in butter. Toss with 1 tbl sugar. Sautee until soft and starting to brown. Add 1 tbl vinegar, salt and pepper. Place in oven for 30 minutes.
Combine spinach, sliced onion, persian cucumber and tomatoes on plates. Thickly slice carmelized shallots and place on top of salads.
Combine dressing ingredients in a sauce pan and bring to simmer. Remove from heat and let cool slightly. Spoon dressing over salads.